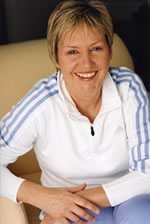 Whether consulting to a national tennis federation, coaching recreational or elite players and teams, or teaching a club-level beginner, Anne Hobbs' unique approach to tennis embraces the complexities of the game and sets the stage for success.
"The first step is always the same," says Hobbs, a three-time Grand Slam doubles finalist and former British Number One. "I help individual players define very specific goals, then work to bring them to their full potential."
Hobbs' distinct coaching system combines a classic emphasis on technique and tactics with Sports Psychology principles to achieve peak performance. "Whether they know it or not, all players have a resistance to realizing their goals," she says. "Until they understand why they repeat mistakes, they will continue to repeat them. By engaging them on an emotional level, you can help them understand, work through, and resolve self-defeating behaviors."
Another distinct aspect of Hobbs' system is that she tailors her approach to the individual client. "I don't believe in imposing my game on others," she says. "Each player is a unique person with a unique game, and I adjust accordingly. Of course, if a particular stroke isn't ergonomically correct, we have to address that, but for the most part, I find it more constructive to improve the game players come to me with rather than starting over from scratch." Hobbs spends as much time as possible teaching on-court formulae and transmitting her love for high-percentage tennis. She strives to foster independence in each student, so he or she can apply those principles freely on the court.
Hobbs' Zen-like teaching philosophy is based on a wealth of experience gleaned from her professional career and her work as a coach. In addition, under the tutelage of Drs. Deborah and Charles Bershatsky at Mid-Manhattan Institute for Modern Psychoanalysis (MMI) Hobbs has taken the principles of Modern Psychoanalysis—the study of transference and resistance as introduced by Freud and further developed by Dr. Hyman Spotnitz—and applied them to the game of tennis. Hobbs uses Modern Psychoanalytic techniques to foster a powerful coach-player relationship wherein the player feels safe and supported and therefore is empowered to mature and move forward.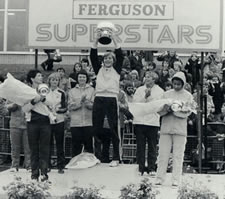 Professional Career
From 1978 to 1989 Hobbs forged a stellar career on the WTA Tour, winning more than twenty doubles titles including the Canadian Open, New Zealand Open, and seven UK National Championships. As a singles player, she won the Ginny (Virginia Slims) of Indianapolis, New Zealand Open, UK National Championships, and reached the Round of 16 at least once at all four Grand Slams, attaining a career-high WTA ranking of 33 in Singles and 6 in Doubles. Her serve-and-volley game was founded on superb fitness and dogged determination. In 1979 Hobbs won the BBC Superstars Competition beating medaled Olympic athletes. During an injury break, she developed a TV career, first as a producer on the famous British celebrity quiz show "A Question of Sport" and then as a BBC commentator. Later she worked with Brad Holbrook on "A Tip from A Pro" in the USA. Despite her promise in the broadcast booth, she redirected her energies toward pursuing her growing passion for studying the unconscious. Toward this end, she relocated to New York, earned a college degree in Psychological studies, built her own teaching business and private consulting practice, and has never looked back.
The Evolution of a Coaching Philosophy
For all of the success she enjoyed, Hobbs is refreshingly honest about both the ups and downs of life as a professional player: "I had my triumphs, but I struggled with perspective. It was hard to stay positive when each week's tournament yielded only one champion. It wasn't until years later that I understood that winning could not be the only goal." In her work as a coach and consultant, Hobbs draws on such reflections to help players hone both their game and their approach to the tennis life.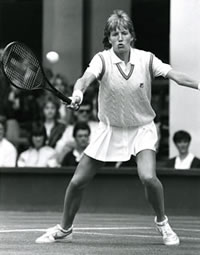 Hobbs appreciates the value of good coaching because she herself benefited from a number of successful collaborations: "My teachings are the product of all the great mentors I've had the privilege of working with," she likes to say. From Charles Applethwaite, she learned doubles prowess and numerous drills and games for many players on the court at one time; from Tony Mottram the continental grip for the serve and net play and the importance of balance, and from Leslie Hunt how to adjust her game for the specific challenges of clay.
Ironically, she met two of the teachers who had the most impact on her philosophy near the end of her playing career: Dennis Ralston who imparted the need for relaxation and a more positive attitude on the court, and Chris Bradnam, who showed her the way to consistency, focus, and a method for emphasizing strengths rather than dwelling on weaknesses. Bradnam also inspired Hobbs to more closely examine the mental versus technical side of the game.
Out of all of these mentors, and along with her work at MMI, Hobbs developed her successful signature system of READING THE BALL, "That one doesn't go in the bio," she says with a laugh. "We'll discuss READING THE BALL when we begin working together. For now, let's just say that this system keeps players from dwelling on unhelpful thoughts and feelings, and focuses them on making the best available high-percentage choices from moment to moment."
Anne Hobbs is a USPTR certified Pro. She has a private consulting practice in New York City, and has been a teaching pro at East River Tennis Club, New York Health and Racquet Club, and Roosevelt Island Racket Club, also in New York City, where she lives with her daughter.